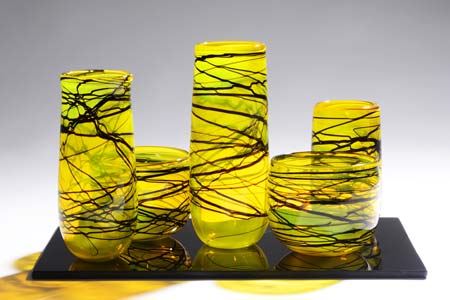 I teach several workshops each year, an introduction to fusing and slumping glass. This is a one-day workshop that is aimed at beginners or people with basic skills. I offer 6 workshops each year with the maximum in a class of 8 students. The class is about 6 hours long and each student makes a glass tile, 2 fused brooches and 2 slumped bowls. I do take group bookings as well for the class if an organization or social group wants to have a get together. I am also available for specialist one off teaching where I negotiate with the student learning outcomes, time and fees. Please contact me if you want more information on any of my workshops.
2014 SUNDAY GLASS WORKSHOPS - INTRODUCTION to KILN GLASS
Learn the basics of fusing, slumping, using coloured glass pieces, powders & frits and kiln firing. This one day workshop is intended to give you the ability, knowledge and confidence to experiment with these processes on your own. For more inform ation or to book Phone David on 021 1137970 or e mail d.traub@infogen.net.nz
WORKSHOP DATES
16 February, 13 April, 18 May, 15 June, 14 September, 2 November and 30 November
CLASS SIZE
Maximum 8 students, Fee $100.00*
*Please note: Freight cost for delivery of finished work will apply if required for out of town delivery.
Click here to view my brochure on my 2014 workshop (pdf 180kb)