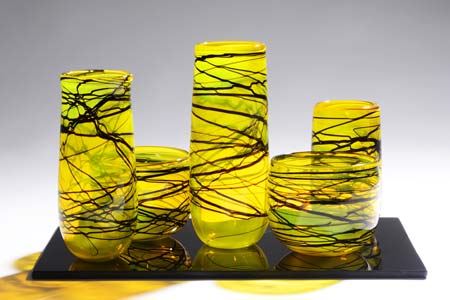 I teach several workshops each year, an introduction to fusing and slumping glass. This is a one-day workshop that is aimed at beginners or people with basic skills. I offer 6 workshops each year with the maximum in a class of 8 students. The class is about 6 hours long and each student makes a glass tile, 2 fused brooches and 2 slumped bowls. I do take group bookings as well for the class if an organization or social group wants to have a get together. I am also available for specialist one-on-one teaching where I negotiate with the student learning outcomes, time and fees. Please contact me if you want more information on any of my workshops.
INTRODUCTION to KILN GLASS
Learn the basics of fusing, slumping, using coloured glass pieces, powders & frits and kiln firing.
This one-day workshop is intended to give you the ability, knowledge and confidence to experiment with these processes on your own.
During the workshop you will make:
- a coloured glass tile
- two slumped glass bowls
- two fused glass brooches
Saturday Workshop Dates for 2022:
9 April
28 May
18 June
3 September
1 October
12 November
10 December
CLASS SIZE: Maximum 8 students
FEE: $125 (includes materials)
COVID-19: All students must have a vaccine pass
BOOKINGS: For more information or to book, phone David on 021 113 7970 or email david.traub5@gmail.com

---
Private Workshops
David's introductory kiln glass workshops can easily be arranged for small private groups of 3 to 8 people. These are perfect for staff events, special interest groups or clubs and can be arranged for either a weekday or weekend. Contact David for more info.